100k in 100 Days: You Did It!
The first phase of the Camalu Project is fully funded – you guys did it! Well actually, you exceeded it, surpassed it, beat it, and went ABOVE and BEYOND.Ephesians 3:20-21 continually runs through our heads as we think about this new year and what God has in store: "Now to Him who is able to do exceedingly, abundantly, above all, above and beyond all that we ask or think according to the power that works in us to Him be the Glory!"
And He truly does always go above and beyond what we ask or think! It is such a blessing to know that God has gone before us and it encourages us to see the body of Christ work together to accomplish His plans on Earth. We raised a total of $146,599.75 in 100 days! We are grateful for every dollar given and every prayer lifted up. From the bottom of our hearts, we say MUCHAS GRACIAS! Please enjoy this video from the directors of Open Arms, Heidi and Daniel Elizarraraz, as they share their gratitude with you.
Muchas Gracias
Please click play to view our thank-you video or click on the following link!
http://openarmsmexico.wistia.com/medias/xnv6vaqz9q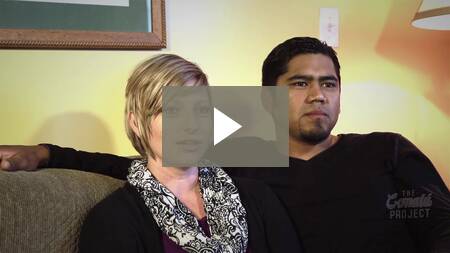 Prayers Needed for the Right Land
Since the 100 days began, we have been searching high and low for the right piece of property in Camalu – the one God wants for Open Arms. We know we have been called to the Camalu area, but now the question is: where in Camalu? We were considering purchasing property that already included a house, but then the owners doubled the asking price.
We are now looking at another property that is below market value in a really desperate neighborhood (a perfect location for our ministry); however, it has no water or electricity. We are in talks with a well-digging company and the Mexican electrical company about the cost of bringing these necessities to the land.
Additionally, the new mayor of Camalu has heard about our project. He owns large portions of land in Camalu, and we are praying that God will open doors with him. We are excited about the many opportunities ahead forOpen Arms, but we want the property God wants for us. Will you please pray with us? 
This is a piece of land in Camalu that we are praying about it! Can't you picture Open Arms here!
A Day of Fasting and Prayer
This coming Monday, January 20, we will be holding a corporate day of prayer and fasting here at Open Arms, and we are inviting you to join! Join us in a day of prayer and intercession for the land in Camalu. Monday is Martin Luther King, Jr. Day. As he fought against civil injustice, we too will fight in the Spirit, through prayer, against the injustices suffered by children living in orphanages. Pray for those who are abandoned by their parents because of a lack of childcare. Pray for the ten million Mexican children who live in orphanages. Pray for the many children and families who are in dire need of a daycare in their community.
Pray for Camalu, that God would show us and direct us to the land He wants for this project. Please pray that, through this, the children of Camalu will be saved from abandonment and that hundreds, even thousands of members of the Camalu community will come to know Him. We need ALL of you to join the fight, and pray and fast for the property in Camalu. We pray expecting!